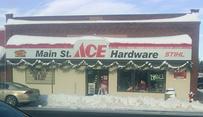 Main Street Hardware
6388 Main St
North Branch, MN 55056
Phone: (651) 674-4408
Email:
CHUCK@IDEA-COMPANY.COM
Mon - Fri 8:00 am - 7:00 pm
Sat 8:00 am - 5:00 pm
Sun 10:00 am - 3:00 pm ROGER SINN
Owner Manager

Old School
The crew

The Girls
Staff

Stihl
Stihl

Nick
Boss
As your local Ace Hardware, Main Street Hardware is a member of the largest retailer-owned hardware cooperative in the industry. Ace Hardware began as a small chain of stores in 1924 and has grown to include more than 4,600 stores in 50 states and more than 70 countries. As part of a cooperative, every Ace Hardware store is independently owned. Main Street Hardware was founded in 1987 by Roger and Linda Sinn. Their commitment to superior customer service and a wide range of product offerings have made Main Street Hardware the areas destination for "Do It Yourselfers", professionals and businesses alike. The tradition continues with their son Chuck, daughter Jenn and their dedicated staff. We are all committed to being "the Helpful Place" by offering our customers knowledgeable advice, helpful service and quality products. As the helpful hardware folks in your community, we promise that, "helping you is the most important thing we have to do today."
BLACK+DECKER
Clark+Kensington
DEWALT
Rubbermaid
STIHL
STIHL
Scotts
Traeger
Valspar
Watkins Products
Werner