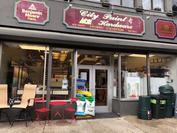 City Paint & Ace Hardware
130 Washington St
Hoboken, NJ 07030
Phone: (201) 659-0061
Fax: (201) 659-5266
Email:
info@citypaintace.com
Mon - Fri 8:00am - 6:00pm
Sat 9:00am - 5:00pm
Sun Closed
Marco Hernandez
Manager

Ernie Reyes
Owner
We were founded in Hoboken in 1931. Manny Reyes took over the store in April of 1978. Manny was exiled from his native Cuba in the fall of 1961. He worked from busboy to manager at the Clam Broth House in Hoboken until 1978 when he was going to open an electrical supply house in Hoboken. While getting supplies to open his business he was shopping in the then City Paint and Hardware. The old owner told him that paint and hardware was a better business and that he should buy his store. Manny did this and became an Ace Hardware store in 1988. This changed the store name to City Paint & Ace Hardware. Manny retired in 2003 and his son Ernie Reyes runs the family business now. Ernie has been in the business since 1978 working Saturdays and summers. Ernie joined the store full time after getting his degree from Rutgers University in 1994. City Paint & Ace Hardware is a community store that is proudly family run.