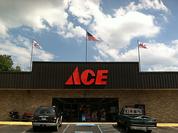 Farley's Ace Hdwe & Bldg Product
16414 Rankin Ave
Dunlap, TN 37327
Phone: (423) 949-4153
Fax: (423) 949-4155
Email:
farleyace@bledsoe.net
Mon - Fri 7:00 am - 6:00 pm
Sat 7:00 am - 6:00 pm
Sun Closed Vicky Farley Johnson, Raymond Farley, Pam Graham
Owner Vicky Farley Johnson
Manager
As your local Ace Hardware, our store is a member of the largest retailer-owned hardware cooperative in the industry. Farley's Ace Hardware was established as a small store in 1974 by Raymond "Buck" Farley and has grown into a largest hardware store and contractor center in Dunlap, Tennessee. We are all committed to being "the Helpful Place" by offering our customers knowledgeable advice, helpful service and quality products. As the helpful hardware folks in your community, we promise that, "helping you is the most important thing we have to do today."