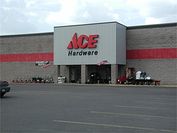 Country Village Ace Hardware
1150 Country Ln
Ishpeming, MI 49849
Phone: (906) 485-1870
Fax: (906) 485-1789
Email:
ace8637@aol.com
Mon - Fri 8:00 am - 7:00 pm
Sat 8:00 am - 5:00 pm
Sun 10:00 am - 4:00 pm

Don Trudell
Manager
Brad Argall
Owner
Country Village Ace Hardware opened its doors for business on April 21, 1997 under the management of Brad Argall. The store opened with a full compliment of paint, housewares, electrical, plumbing, hardware, tools, automotive, and lawn & garden items along with a rental department. Brad continued to manage the store until the end of 2004 when he then passed on his day to day managerial duties to the present manager Don Trudell. Brad, however is still involved in the management of the business. Don has been with Ace from the start in 1997, after previously being involved in the hardware business for over ten years. We continue to strive everyday at Country Village Ace Hardware to provide the best possible service at the best possible price for the residents and businesses of the western Marquette county.