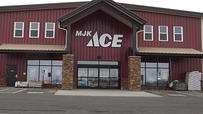 M.J.K. Sales And Feed Inc
2315 W 1st St
Craig, CO 81625
Phone: (970) 824-6581
Fax: (970) 824-6585
Email:
lorraine.mjk@gmail.com
Mon - Fri 7:00 am - 6:00 pm
Sat 7:00 am - 6:00 pm
Sun 9:00 am - 5:00 pm Lorraine Kawcak
Owner Blaine Kawcak
Manager
MJK Sales and Feed, Inc. was founded in 1976 by Mike J. Kawcak, Sr. & Lonnie A. Kawcak. The business's 1st location was in the 300 block of School St,in Craig, CO. There they sold farm equipment, fencing & a small amount of hardware. In 1978, they bought Rogers Grain Elevator & built the existing hardware store at 290 Ranney Street.The hardware store has gone through 3 expansions & 3 remodels to bring it to the size it is today, approximately 11,000 sq ft. In 1985, MJK Sales and Feed, Inc became an Ace Hardware store. Ace Hardware is now our major supplier. We have many other suppliers for the culvert, fence, rock, paint, lumber, etc. Lonnie & Lorraine Kawcak now are the owners. As your local Ace Hardware, our store is a member of the largest retailer-owned hardware cooperative in the industry; We are all committed to being "the Helpful Place" by offering our customers knowledgeable advice, helpful service and quality products.