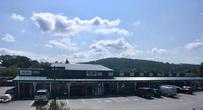 J & W Hardware Inc
1060 Old Trail Rd
Etters, PA 17319
Phone: (717) 938-8063
Email:
jwhardware@hotmail.com
Mon - Fri 7:30 am - 8:00 pm
Sat 7:30 am - 8:00 pm
Sun 7:30 am - 5:00 pm
Jay, Jack, Joey
Owner Manager
J & W Hardware has been in business since 1985 and has built a reputation for outstanding customer service and a large competitively priced product selection. J & W Hardware has the roots of a down home hardware store but offers 15,000 sq. ft. of merchandise. Whether it's tools, paint, electrical, plumbing, fasteners, building materials or lawn & garden products, J & W has just what you need. We carry a mix of regular and pressure treated lumber along with bagged mulches, decorative stone, and pavers. J & W is now a dealer of STIHL products and we are also equipped with a propane filling station and a garden center that is exploding with a large variety of plants, shrubs, and trees throughout the spring and summer months. We look forward to helping you with all of your hardware needs.
Ace Paint
Clark+Kensington
Craftsman
DEWALT
Minwax
QUICKCRETE
STIHL
Scotts
Traeger
UGL
Valspar
Weber
Werner
hth
Red Land Little League Baseball
J & W sponsors Little League Baseball teams to help them get uniforms and necessary equipment.
J & W supports the local churches and their fundraising efforts.
J & W Hardware supports the Red Land Senior Center by supporting and participating in their chicken BBQ's.
J & W supports Midget football by making donations to provide proper equipment to keep the kids safe.
Children's Miracle Network
J & W Hardware makes donations to this philanthropy.