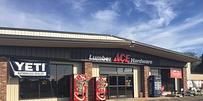 Ace Building Center
2039 Us Highway 45 Byp S
Trenton, TN 38382
Phone: (731) 855-2991
Email:
ddcorley68@gmail.com
Mon - Fri 8:00 am - 5:00 pm
Sat 8:00 am - 12:30 pm
Sun Closed
DAVID
Manager
DINAH
Owner
Ace Building Center opened in October 1984 and continues today with the original owners, Danny & Dinah Corley. We are locally owned but nationally known as an Ace Hardware store. Our goal each day is to service the customer to the very best of our ability with the products and services they need and make friends along the way. Ace Hardware has been a great partner in helping us provide these products and services.