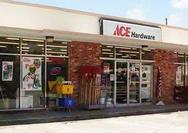 Ace Hardware
510 E Boynton Beach Blvd
Boynton Beach, FL 33435
Phone: (561) 732-2161
Email:
valeriepl@boyntonace.com
Mon - Fri 7:30 am - 6:00 pm
Sat 7:30 am - 5:30 pm
Sun 9:00 am - 4:00 pm

Jack Skillman
Manager
Valerie Pleasanton
Owner
As your local Ace Hardware, our store is a member of the largest retailer-owned hardware cooperative in the industry. Boynton Ace Hardware began in 1970 as a small Western Auto general store located in downtown Boynton Beach. As the business grew, Dale and Edris Hatch purchased Austin Supply, the town's oldest hardware store, in 1972. They later joined the Ace Hardware cooperative to be able to offer even more selection and better pricing. Valerie Hatch Pleasanton continues the family business today after her parents retired. Although Boynton Ace Hardware is small, we are uniquely tailored to meet the needs of our local community. We are committed to being "the Helpful Place" by offering our customers knowledgeable advice, helpful service and quality products. As the helpful hardware folks in your community, we promise that, "helping you is the most important thing we have to do today."