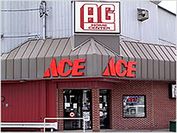 A. G. Hardware Supply Co Inc.
776 Lakeview Ave
Lowell, MA 01850
Phone: (978) 458-8456
Mon - Fri 8:00 am - 5:00 pm
Sat 8:00 am - 5:00 pm
Sun 9:00 am - 3:00 pm Mr. Gagnon
Owner Manager
AG Hardware was started by Andre Gagnon and his wife Julie in 1954.After securing space and completing a major cleaning (previous business was a donut shop), AG officially opened April 22, 1954. Over the years, it has grown to more than ten times the original space.AG now carries over 19,000 items in stock and can special order more than 100,000 additional items. Current second-generation owner is Louis Gagnon,the youngest of Andre and Julie's four sons. Louis' oldest daughter Amy manages the day to day operations. AG caters to homeowners, do-it-yourselfers, and landlords. We have knowledgeable salespeople who are eager to help. On our 3 sales floors we have a broad mix of hardware, plumbing, electrical, tools, lawn & garden, cleaning supplies, and a complete paint department.Our 2nd floor showroom features kitchen & bath cabinets, tubs, toilets, medicine cabinets, tub walls, shower doors, and etc. Plus,items over $100 on our 2nd level are sold Tax Free!