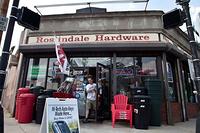 Roslindale Hardware
4407 Washington St
Roslindale, MA 02131
Phone: (617) 323-8639
Fax: (617) 323-7586
Email:
josefpjustice@aol.com
Mon - Fri 8:30 am - 6:30 pm
Sat 8:30 am - 6:30 pm
Sun 11:00 am - 5:00 pm Josef Porteleki
Owner

Joe and Alex
Here to help! Alex Porteleki
Manager
We are a family owned hardware store offering key duplication, window and screen repair, fax service, electrical & plumbing supplies, paint, tools, ice melt, seeds, and just about anything a homeowner, contractor or you might need! Since we first opened in 1888, Roslindale Hardware has provided homeowners, contractors and just about everyone, nearly everything under the sun from horseshoes and dynamite back then, to tools, paint, supplies and good old-fashioned know-how, today! Because Roslindale has changed over the years, we've changed too, by adding tons of new hard-to-find items every week, and by special-ordering items that folks just can't get anywhere! That's why we're still here proudly serving Roslindale, keeping your Victorian stately and your grass green for over 120 years! Please visit us soon and skip the big guys!