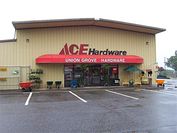 Union Grove Hdw/Bldrs Supply
1475 W Memorial Hwy
Harmony, NC 28634
Phone: (704) 539-5504
Fax: (704) 539-5088
Email:
ugh.ace@att.net
Mon - Fri 8:00 am - 5:00 pm
Sat 8:00 am - 12:00 pm
Sun Closed John La Rue
Owner
JOHN LA RUE
GM / OWNER John La Rue
Manager

HORACE HUIE
CUSTOMER SERVICE MGR
As your Union Grove Ace Hardware, our store is a member of the largest retailer-owned hardware cooperative in the industry. Union Grove Hardware and Builders Supply Inc. began back in 1985 with a group of local business men that felt the need for local supplies for the needs of the community. In April of 2001 was the 1st time that a single local owner was operating and owning the store. As part of a community we strive to be everything you need, from a Post Office to our extensive plumbing department. We are all committed to being "the Helpful Place" by offering our customers knowledgeable advice, helpful service and quality products. As the helpful hardware neighbors in our community, we promise; "helping you is the most important thing we have to do today."