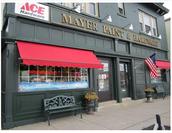 Mayer Hardware, Inc
226 Winton Rd N
Rochester, NY 14610
Phone: (585) 288-7665
Fax: (585) 485-8172
Email:
general.mayerhardware@gmail.com
Mon - Fri 7:30 am - 7:00 pm
Sat 8:00 am - 6:00 pm
Sun 9:00 am - 3:00 pm

Dennis
Manager
Tommy
Owner
Front
Store
Mayer Paint & Hardware was opened by Tom and Barb Green in the mid-70's. A neighborhood store with the selection of a super-store, Mayers has been serving the greater Rochester area with pride for over 30 years. We are honored to have the privilege of serving our friends and neighbors and are always looking to help others. So if you're in the neighborhood, drop by for some free coffee or popcorn and see why our customers are always saying "Now This is a Hardware Store!!!"
Amy Howard
BLACK+DECKER
Benjamin Moore
Big Green Egg
Clark+Kensington
Clark+Kensington
Craftsman
DEWALT
Rubbermaid
Scotts
Traeger
Valspar
Weber
Werner
YETI
Paint Technician with experience with the latetest mixing machines and have an eye for color.

Contact: Tom Green Jr., 585-288-7665
Cashiers exemplify the foundation of our service to each customer as they enter and leave the store. Every job within Ace ultimately impacts the customer directly or indirectly. Customers are the reason we are here; without them we wouldn't be.
Sales associates are responsible providing legendary customer service. They offer the solutions to the customers needs. Every Ace team member is expected to pledge to keep the customer first and foremost regardless of his or her job.