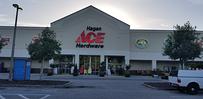 Hagan Ace Hardware
12501 San Jose Blvd
Jacksonville, FL 32223
Phone: (904) 268-9597
Email:
mandarin@haganace.com
Mon - Fri 8:00 am - 7:00 pm
Sat 8:00 am - 7:00 pm
Sun 9:00 am - 5:00 pm

Jacob Hagan
Director of Store Operations

Bill Hagan
Owner

Kevin Gowen
Manager
In 1962, Don and Ann Hagan branched out on their own and purchased a small hardware store in Hilliard. The store was a mere 1050 sq. ft. In 1964, they joined Ace Hardware. In 1972, the Hagan's built a new store in Hilliard (4,800 sq. ft.), across the street from the original store. New merchandise was added to better serve the community. The business continued to grow and eventually eight stores branching out from Hilliard to Macclenny, Mandarin, Orange Park, Middleburg, St. Augustine, and Palatka were serving their local communities. The stores range in size from 9,000 sq. ft. to 40,000 sq. ft. and carry a wide range of hardware products, paint, tools, electrical, plumbing, lawn and garden ,plants, BBQ, outdoor furniture, pool supplies, lumber, and clothing. Each store is unique and presents a merchandise selection suited for the community.