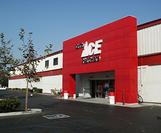 Griffin Hardware Co
3501 W 1st St
Santa Ana, CA 92703
Phone: (714) 554-0902
Curbside Phone: (714) 713-4837
Email:
griffinacesa@gmail.com
Mon - Fri 7:30 am - 6:00 pm
Sat 7:30 am - 6:00 pm
Sun 8:00 am - 6:00 pm

Griffin Ace Hardware logo
Griffin Ace Logo

Griffin family
Owner Ernie Martinez
Manager
Griffin Ace Hardware has come a long way since it opened its doors in Santa Ana in 1953. The second and third-generation of the Griffin family continues to operate the business that has grown to include two additional locations in San Diego. Our customers see us as an alternative to large outlets and big box chains. We are committed to offering our customers knowledgeable advice, helpful service and quality products. As "Ace...The Helpful Place", we do what it takes to make sure customers leave our store saying WOW! Incredible Service! Incredible Selection! Incredible Experience!