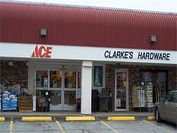 Clarke's Hardware
257 Newport Rd
New London, NH 03257
Phone: (603) 526-2800
Curbside Phone: (603) 526-2800
Email:
CLARKES@CLARKESHARDWARE.COM
Mon 8:00 am - 4:00 pm
Tues 8:00 am - 4:00 pm
Wed 8:00 am - 4:00 pm
Thurs Closed
Fri 8:00 am - 4:00 pm
Sat 8:00 am - 4:00 pm
Sun Closed
Read Clarke
Owner Mark Brady
Manager
AT CLARKE'S HARDWARE We believe our knowledgeable staff makes all the difference. We start with a helpful attitude and always welcome the opportunity to solve your problems. We make a point of understanding your specific needs. Then, we offer reliable advice on the best options and items to do the job right the first time, everytime. Finally, we stand behind all the products and services we provide. Our relationship with you, our customer, is very important to us. We always appreciate your business and thank you for your continued support.