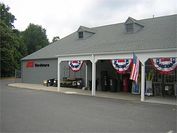 Ace Hardware
690 Main St S
Woodbury, CT 06798
Phone: (203) 263-5999
Email:
Chris@helpfulplace.com
Mon - Fri 8:00 am - 4:00 pm
Sat 8:00 am - 4:00 pm
Sun 9:00 am - 1:00 pm Christopher Wolf
Owner Stephen Shaw
Manager
Established in 1968, Ace Hardware of Woodbury (formerly Kens Hardware) has been providing friendly courteous service going on four decades. Christopher Wolf, the current owner, took over the store in early 1999 at its original location. In 2004 he expanded it to its current location and has increased product lines to meet customer needs. The store has been designed to provide shoppers with solutions to their home improvement needs by having an extensive array of quality products, coupled with hands-on service, under the same roof. Signature areas of the store include The Paint Studio, Benjamin Moore, Weber, Lawn and Garden, Expanded Housewares and Tool and Hardware departments. Our new Ace store builds perfectly on our 'helpful hardware folks' tradition.