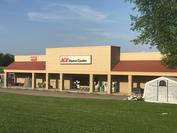 A-Plus Hardware Inc
6350 Joe Frank Harris Pkwy NW
Adairsville, GA 30103
Phone: (770) 773-3388
Fax: (770) 773-1510
Email:
a10508z@comcast.net
Mon - Fri 8:00 am - 5:30 pm
Sat 8:00 am - 4:00 pm
Sun Closed Fred Painter and Corey Sutton
Owner Corey Sutton
Manager
Adairsville Ace Hardware is your friendly locally owned and operated Ace Hardware store serving the Adairsville and Northwest Georgia area for nearly the past 50 years. In addition to being your "Helpful Hardware Place" we are also a lumber and building material supply committed to helping our customers with quality products, great personal customer service, and an excellent shopping experience from local experts who know you best. As your helpful hardware folks in your neighborhood, we promise that helping you is the most important thing we have to do today.