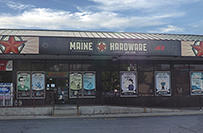 Maine Hardware
274 Saint John St
Portland, ME 04102
Phone: (207) 773-5604
Email:
Tim@mainehardware.com
Mon - Fri 7:00 am - 6:00 pm
Sat 8:00 am - 6:00 pm
Sun 9:00 am - 5:00 pm CHK Partners/ Pete Zimmerman
Owner

Tim Currier
Manager
We are open for in-store shopping and online orders. We offer both curbside pick-up and delivery (within 5 miles of Portland, $50 minimum, MON-FRI). Proudly Local, Fiercely Independent, Wicked Helpful. Maine Hardware opened its doors back in 1934 on Congress Street. In 1978, we moved to our current location and today, Maine Hardware occupies over 37,000 square feet on 2 floors at Union Station Plaza on St. John Street. Our Philosophy is simple-- give you The Power To Do It Yourself. We do this by offering great products, at great prices, and support from great staff who are knowledgeable and ready to help you plan and prepare to tackle your next home improvement project. Sounds great, huh?