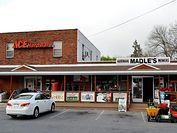 Madle's Hardware Inc
3570 Lanark Rd
Coopersburg, PA 18036
Phone: (610) 797-0434
Email:
madles@rcn.com
Mon - Fri 8:00 am - 5:00 pm
Sat 8:00 am - 5:00 pm
Sun 10:00 am - 2:00 pm
Leroy Halleman
Owner
Josh Christopher
Manager
Serving the community for generations, Madle's ACE Hardware is dedicated to fast, reliable customer service. If we don't have it, we'll get it! Our friendly, knowledgeable staff can help with things from everyday shopping to the puzzling plumbing nightmare. We first opened our doors in 1950 and thanks to renovations and improvements; the store continues to grow and is still going strong! It has been nearly a decade since Madle's has joined forces with ACE Hardware to deliver our customers the best prices and brands of products. Locally-driven and family operated, Madle's is proud to be a part of an incredible small business community in the Lehigh Valley. We're known as the helpful place, and for good reason! C'mon down to the store and check us out.