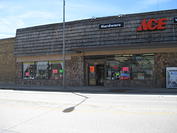 Ace Hardware
709 Pine Ave
Kemmerer, WY 83101
Phone: (307) 877-6956
Fax: (307) 877-4521
Email:
kemmererace@gmail.com
Mon - Fri 7:30am - 7:00pm
Sat 8:00am - 6:00pm
Sun 10:00am - 4:00pm Pam Price
Owner Scott Tharp
Manager
Flanders Ace Hardware is a family owned store that has recently celebrated over 30 years in business. Four generations have worked at this location and we look forward to many more years serving our community. We look forward to assisting you with your project.