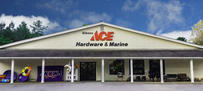 Bibens Ace Hardware - Colchester
713 W Lakeshore Dr
Colchester, VT 05446
Phone: (802) 863-4910
Fax: (802) 862-0133
Email:
peterc@bibens.com
Mon - Fri 7:00 am - 7:00 pm
Sat 7:00 am - 6:00 pm
Sun 7:00 am - 4:00 pm

Brian Baird
General Manager Rick Bibens
Owner
Peter Casselman
Manager
The second location of the Bibens Ace collection of Ace Hardware stores, Bibens Ace Colchester, was purchased in August of 2000. This store, located in Colchester, VT, was a 10,000 sq. ft. True Value store that was converted to the Ace Hardware banner. We offer all nine departments of Ace, as well as a wide range of hunting, fishing, and marine items, complete with live bait and Vermont State fishing and hunting licenses.