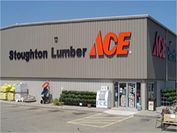 Stoughton Lumber Co Inc
3188 Deer Point Dr
Stoughton, WI 53589
Phone: (608) 873-4141
Fax: (608) 873-4140
Email:
info@stoughtonlumber.com
Mon - Fri 7:00 am - 7:00 pm
Sat 7:00 am - 6:00 pm
Sun 9:00 am - 4:00 pm James & John Gerber
Owner Manager
The Stoughton Lumber Co. was established along the railroad tracks on East Main st. in 1925. Forty years later, in 1965, Norman Gerber moved to Stoughton to manage the lumber company, which until then had catered mainly to building contractors. Seeing the opportunities the business could offer to the entire community, Norman purchased Stoughton Lumber Co. in 1967. Two of Norman's four sons later joined him in running the business. As the Stoughton community grew so did the lumber yard, and soon the small property next to the railroad tracks was no longer sufficient. In 2001, Stoughton Lumber moved across town to their current location at 3188 Deer Point Dr. The move allowed them to more than double the size of the lumber yard and triple the size of the store. With the move, Stoughton Lumber also became part of the ACE Hardware family.