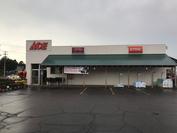 Darling Ace Hardware
855 W Michigan Ave
Marshall, MI 49068
Phone: (269) 781-7921
Fax: (269) 789-0386
Email:
darlingace1975@gmail.com
Mon - Fri 9:00 am - 5:00 pm
Sat 9:00 am - 5:00 pm
Sun Closed

Michael Darling
Owner Jared Smith
Manager
The first Darling Hardware was launched in 1935 in Perry, Michigan. W.A. "Walt" Darling started the store with his sons when few businesses were expanding in the depths of the depression. The store is still in operation in Perry with a fourth generation Darling at the helm. W.L. "Tom" Darling and his brothers divided the business operations in Perry as they married and began their own families. Tom left the hardware to run a prosperous lumber yard and grain elevator until his retirement in 1972. After a brief retirement in Florida, Tom along with his oldest son Thomas went hardware shopping and found the Sanders Brothers' store in downtown Marshall in the fall of 1975. The family moved to Marshall in the next year and several of them went to work at the store including Janice, Gail, and Michael. Michael, the current and third generation owner moved the store to the current location in 1995.