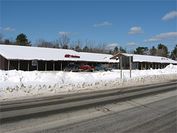 Baldwin Ace Hardware
6785 S M-37
Baldwin, MI 49304
Phone: (231) 745-4511
Email:
gilmurray@sbcglobal.net
Mon - Fri 8:00 am - 5:00 pm
Sat 8:00 am - 5:00 pm
Sun 9:00 am - 3:00 pm Michael & Jennifer Gilmurray
Owner Tammy Jones
Manager
Baldwin Ace Hardware was established in 1984. Originally opening a True Value Hardware with a total square footage of 3000 sq. ft., we have expanded the size of the store (19000 sq. ft.) and supply of merchandise in accordance with the growth of the community. This assures every customer that no matter how far they have traveled to our small resort community, their needs will be met at our store. Michael & Jennifer Gilmurray purchased the business on June 7, 2007 with a plan to continue the tradition of meeting the needs of their community. At Baldwin Ace Hardware, customer service is #1.