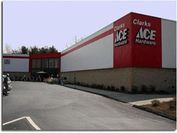 Clarks ACE Hardware
10325 US Route 40
Ellicott City, MD 21042
Phone: (410) 465-9633
Email:
inbox@clarkshardware.com
Mon - Fri 9:00 am - 6:00 pm
Sat 9:00 am - 6:00 pm
Sun 9:00 am - 6:00 pm
Margaret Clark
Owner
Jason Raker
Manager
Brannin Clark
Office Manager
Bethany Winer
Human Resources
Clarks Ace Hardware has been family owned/operated and serving the Howard County area for over 173 years! We not only carry the items to get regular household projects completed, we also carry a variety of unique and name brand products. Stihl, Benjamin Moore, Yeti, Craftsman, Weber, Big Green Egg, and Oakley are just to name a few. Now in it's 7th generation, Clarks is unique and tailored to meet the needs of our local community. We stand behind our 3 pillars of Community, Service, and Trust, which is why we have withstood so many generations of service.