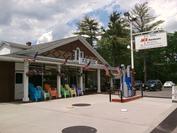 R W Hine Ace Hardware
231 Maple Ave
Cheshire, CT 06410
Phone: (203) 272-4463
Email:
patrickfbowman@gmail.com
Mon 8:00 am - 6:00 pm
Tues 8:00 am - 6:00 pm
Wed 8:00 am - 6:00 pm
Thurs 8:00 am - 6:00 pm
Fri 8:00 am - 5:00 pm
Sat 8:00 am - 6:00 pm
Sun 9:00 am - 4:00 pm
Matt Petuch
Manager
Pat Bowman
Owner
R.W. Hine was founded at its Maple Ave. site in 1910 by Raymond Walter Hine. The store has been expanded many times over the years. It now encompasses over 20,000 square feet of retail space and storage and stocks over 30,000 items. The store is still family owned and continues to rely upon a long-standing tradition of services, integrity, and quality products that has cemented its special relationships with its customers over the years.