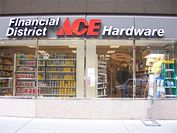 Financial District Hardware
140 Pine St
San Francisco, CA 94111
Phone: (415) 362-7744
Fax: (415) 362-7577
Email:
fdacehardware@yahoo.com
Mon - Fri 8:00am - 2:00pm
Sat Closed
Sun Closed Monica Thrower Funk, Maria Thrower Kay
Owner
All in the Family
Manager
front window
Valentines Day
Finacial District Hardware is a full-service hardware store. Monica and Maria are the daughters of Lester Thrower, who opened Front Hardware in the heart of San Francisco's financial district in 1962. Monica and Maria grew up in the business, working in the store after school and becoming well acquainted with the customers. After high school , the sisters joined their father full time, and through the years they became well known to the stationary engineers of the neighborhood's high rises as the "hardware girls." After the death of their father in 1994, the sisters assumed control of the business, and in 1998, Front Hardware won ACE'S "Most Improved Franchise Award." In 2003 the sisters opened Financial District Hardware, located right across the street from the original store. Keys to success are providing excellent customer service, with a friendly, knowledgeable staff.