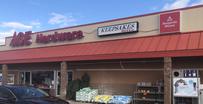 Ace Hardware
854 N Plymouth Rd
Winamac, IN 46996
Phone: (574) 946-4232
Curbside Phone: (574) 946-4232
Email:
ACEWINAMAC@HOTMAIL.COM
Mon - Fri 8:00 am - 7:00 pm
Sat 8:00 am - 7:00 pm
Sun 9:00 am - 5:00 pm
TIM & LISA WIEGAND
Owner TIM WIEGAND
Manager
As your local Ace Hardware, our store is a member of the largest retailer-owned hardware cooperative in the industry. Ace Hardware was purchased by TIM & LISA WIEGAND in April of 2003. They have 2 sons MATT who is at the store 2 days a week,and TROY GRATUATED FROM Butler University.Troy works for the Kinney group out of Indianapolis, in We here at the Winamac Ace Hardware pride ourselves on customer service, and we look forward to serving you!