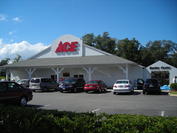 South Leesburg Ace Hardware
27649 Us Highway 27
Leesburg, FL 34748
Phone: (352) 787-5446
Fax: (352) 787-1661
Email:
Southleesburgace@gmail.com
Mon - Fri 7:30 am - 6:00 pm
Sat 7:30 am - 6:00 pm
Sun Closed

Roy (Cadie) Carter
Owner

Dick Frazier
Manager
South Leesburg Ace Hardware opened on December 26, 2003 and is conveniently located near Hawthorne, Okahumpka, and Yalaha next to the Publix Shopping Center; which is only three short miles from downtown Leesburg. Our store is family owned and operated. Owned by Roy Cadie Carter Jr., who was born and raised in Lake County, South Leesburg Ace Hardware carries a vast array of products, even including live bait!Most importantly, our employees are all committed to keeping our store the helpful place by always offering our customers knowledgeable advice, valuable service, and quality products.