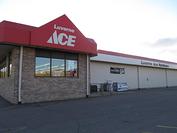 Luverne Ace Hardware
210 E Lincoln St
Luverne, MN 56156
Phone: (507) 283-4161
Fax: (507) 449-3891
Email:
luverneace@gmail.com
Mon - Fri 8:00 am - 6:00 pm
Sat 8:00 am - 5:00 pm
Sun 11:00 am - 4:00 pm Michael Schwalbach
Owner Kevin Mick
Manager
Luverne Ace Hardware is so much more than just a hardware store! We opened in 2003 with customer service as our top priority. Retail has changed a lot and continues to change yearly so here at Luverne Ace Hardware we change as needed. We offer a huge selection of home decor, gifts, toys, housewares, pet supplies as well as the typical hardware store items. If you can't find something please ask, we will do our best to get it in for you. Customer Orders usually arrive in a day or two so you don't have to wait a week anymore for your special needs. Stop by and take a look at all we have to offer.