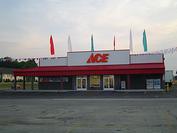 Ace Hardware of Clare
10316 S Clare Ave
Clare, MI 48617
Phone: (989) 386-4000
Email:
acehardwareofclare@yahoo.com
Mon - Fri 8:00 am - 6:00 pm
Sat 8:00 am - 6:00 pm
Sun 10:00 am - 4:00 pm
General Manager Matt Schafer
Manager

Tom Neff
B2B Sales Rep
Matt Schafer
Owner
Ace Hardware of Clare is locally owned and operated by an owner management team that has over 80 years retail hardware experience serving Clare and surrounding communities. Our store opened in 2005 and services all of Central Michigan. We have over 9,000 sq. ft. of retail space to meet your every need. We supply everything for your home, business, church or organizations needs. We carry all of the premium brands you expect and the knowledge and advice to get the job done. We have a business to business sales staff that can help you operate your business effortlessly and efficiently. We can also help you change your business or organizations lights to LED and save you up to 40% on your lighting costs. Contact Tom Neff sales rep for more details at clareaceb2b@outlook.com We are committed to being "the Helpful Place".