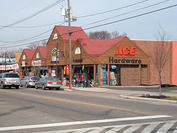 Westmont Ace Hardware
127 Haddon Ave
Westmont, NJ 08108
Phone: (856) 854-3416
Email:
WESTMONTACE@GMAIL.COM
Mon - Fri 8:30 am - 8:00 pm
Sat 8:30 am - 6:00 pm
Sun 9:00 am - 5:00 pm
Bill Getzinger Sr.
Owner Manager
William Getzinger bought what has become Westmont Ace Hardware from his aunt in 1932. It was a house and a store front at 127 Haddon Ave in Westmont. In the 1950's a 1500 sq ft. addition was added to the back of the house. Shortly after, in the early 1960's, William's son Bill left the Navy and joined the business. Bill assumed leadership of the business and grew it to the point that he was able to acquire two adjacent properties on Haddon Ave. From 1988 into 1989 Bill tore down the beloved "old house" and replaced it with the larger, modern store that houses the business today. Amazingly enough, the new store was built up to the old, original addition and the store remained open during the entire project. Shortly after the completion of this project, Bill's son, William Getzinger III, graduated from college and joined the business. Today Westmont Ace Hardware is still owned and operated by the Getzinger family and at the very same location, since 1932.
Amy Howard
BLACK+DECKER
Big Green Egg
Clark+Kensington
Craftsman
Craftsman
DEWALT
Rubbermaid
Scotts
Toro
Traeger
Valspar
Weber
Werner
YETI