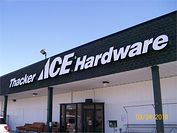 Thacker Ace Hardware
3671 S Crater Rd
Petersburg, VA 23805
Phone: (804) 861-6700
Fax: (804) 861-6719
Email:
Donald.Rackley.Ace@gmail.com
Mon - Fri 8:00 am - 6:00 pm
Sat 8:00 am - 6:00 pm
Sun 10:00 am - 5:00 pm
BARRY SPAIN
Owner
DONALD RACKLEY
Manager
As your local Ace Hardware, our store is a member of the largest retailer-owned hardware cooperative in the industry. Ace Hardware began as a small chain of stores in 1924 and has grown to include more than 4,600 stores in 50 states and more than 70 countries.As part of a cooperative, every Ace Hardware store is independently owned. From neighborhood hardware stores to lumberyards to super-size home centers, each Ace Hardware is unique and tailored to meet the needs of its local community. We are all committed to being "the Helpful Place" by offering our customers knowledgeable advice, helpful service and quality products. As the helpful hardware folks in your community, we promise that, "helping you is the most important thing we have to do today."
BLACK+DECKER
Clark+Kensington
Craftsman
Craftsman
DEWALT
Scotts
Valspar
White's
Thacker Hardware Donates Food for Sheltered Animal
Thacker Hardware Donates Food to Prince George and Petersburg Animal Shelters.
Thacker Hardware Donates to Rowanty Voc. School
Thacker Hardware Plans to donate over $9,000 worth of supplies to Rowanty Vocational School. The donation will include hardware and fasteners of all types to help with there Vocational Training Program.
Thacker Ace Hardware Donates To Ruritan Club
Thacker Ace Hardware in Petersburg is taking its helpful place motto to heart by supporting the Disputanta Ruritan Club. The local store recently donated 25 gallons of paint to the organization to help refresh meeting spaces in its local community center.