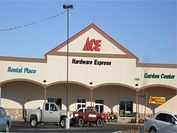 Hardware Express
1900 Marx Way
Anderson, CA 96007
Phone: (530) 365-3783
Fax: (530) 365-6257
Email:
andersonace@helpfulace.com
Mon - Fri 7:00 am - 7:00 pm
Sat 7:00 am - 7:00 pm
Sun 9:00 am - 5:00 pm
Meet Our Staff GBK Corp.
Owner Erika Parker
Manager
About This Store
Locally owned and operated since 2001 Ace Hardware in Anderson has solved home improvement needs by offering our customers a wide selection of products emphasizing both quality and value. We are proud to be associated with Ace Hardware. Established over 90 years ago, Ace Hardware embodies the image of helpfulness. We extend an invitation to you to experience it first hand in our stores. For more than 90 years Ace's Helpful Hardware Folks have provided reliable service, advice and products to help customers get their projects done right. Ace Hardware ranked highest in customer satisfaction among home improvement retailers for eleven consecutive years.
Featured Brands