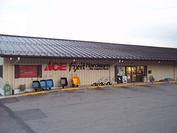 Ace fix-it Hardware-Brookville
2 E Main St
Brookville, PA 15825
Phone: (814) 849-7326
Fax: (814) 849-7260
Email:
brookville@acefixit.com
Mon - Fri 7:00 am - 8:00 pm
Sat 7:00 am - 7:00 pm
Sun 9:00 am - 5:00 pm Chuck Bickel
Owner
Debbie Saunders
Manager
As your local Ace Hardware, our store is a member of the largest retailer-owned hardware cooperative in the industry. Every Ace Hardware store is independently owned. PA native Chuck Bickel owns this location as well as Grove City, Huntingdon, Dillsburg, Oakmont, Tyrone, Duncansville, Everett, Mercer, Greentree, and DuBois, Pennsylvania. From neighborhood hardware stores to super-sized home centers, each Ace Hardware is unique and tailored to meet the needs of its local community. Here our friendly faces are your friends and neighbors. Starting with our manager Debbie Saunders, we are all committed to being "the Helpful Place" by offering our customers knowledgeable advice, helpful service and quality products. As the helpful hardware folks in your community, Ace fix-it promises that "helping you is the most important thing we have to do today."