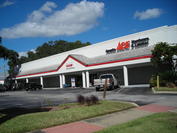 Apopka Ace Hdw/Lbr Inc
530 S Park Ave
Apopka, FL 32703
Phone: (407) 889-4111
Email:
Apopkaace@gmail.com
Mon - Fri 7:30 am - 6:00 pm
Sat 7:30 am - 6:00 pm
Sun Closed
Meet Our Staff

Roy (Cadie) Carter
Owner

Steve Manning
Manager
About This Store
Apopka Ace Hardware was open for business on January 3, 2005 and is owned by Lake County native, Cadie Carter. It was originally known as True Value Lumberjack for twenty five years until Carter purchased the building from Richard Risser and converted it into Apopka Ace Hardware. This family owned and operated hardware store is committed to making their store the helpful place by always offering customers knowledgeable advice, helpful service, and quality products. Whether you are buying one screw or a ten pound sack, the store still offers the same old fashioned service and maintains that hometown feel.
Featured Brands