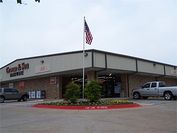 Groom & Son Ace Hardware
1700 W Virginia St
McKinney, TX 75069
Phone: (972) 542-5062
Mon - Fri 8:00 am - 6:00 pm
Sat 8:00 am - 6:00 pm
Sun 10:00 am - 5:00 pm Owner Manager
The Groom family Texas heritage began when Gus & Emmy arrived in Phalba in 1870.Romie & Vennie,their 5 sons & 2 daughters moved to Mabank in 1943. Estle purchased the 4,200sf Burns Brothers Mabank hardware store in 1972. It has grown to be a 40,000sf store with a 40,000sf warehouse & a 5 acre lumber yard. The number of employees has grown from 3 to 100+. We operate 6 divisions in 3 cities. In Mabank we have a 40,000sf hardware store, a decor center(flooring, plumbing & lighting), and a full service lumber yard. Our Pleasant Grove store is a full-service hardware store serving the Dallas south side. In McKinney we have a 26,000sf full service hardware store,a commercial division(providing a maintenance & repair assortment with delivery to schools, municipalities, hotels, apartment & office buildings). We have also opened hardware stores in Athens,Texas and Garland,Texas.
Benjamin Moore
Big Green Egg
Deco Breeze Fans
Radio Flyer
Stihl Power Equipment
Weber Grills & Accessories
Cat and kitten adoptions by North Texas Cat Rescue - 3rd Saturday of each month.