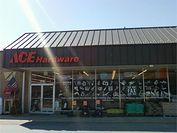 Milan Ace Hardware
513 W Main St
Milan, MI 48160
Phone: (734) 439-0432
Email:
patk@hackneyhardware.com
Mon - Fri 8:00am - 8:00pm
Sat 8:00am - 7:00pm
Sun 9:00am - 6:00pm Milan Ace Hardware
Owner Pat Kiger
Manager
Milan Ace opened its doors on March 1st, 2005 when owner Dan O'Haver took over the location that in the past had been used as a Pro Hardware and Radioshack store. For the last 8 years Milan Ace has strived to meet all customer's needs by offering knowledgeable advice, helpful service and quality products to be "the helpful place!". In that time Milan Ace has also been awarded a "Platinum" award by Ace Corporate for excellence in customer service, product availibity and it's friendly staff and in 2011 Milan Ace was chosen to be among the Top 20 Ace stores from 4800 stores worldwide based on all the goals for reaching Platinum and more. We're also actively involved with the local community where every year we support the local youth sports teams and give contributions and donations to local charities, businesses and organizations including Aid in Milan, Relay for Life, Backstreet Cruizers, Milan Area Fire Department, Milan Area Schools and more!