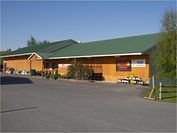 Steele's Ace Home Center
5814 Number Four Rd
Lowville, NY 13367
Phone: (315) 376-6022
Email:
steelesace@nnymail.com
Mon - Fri 7:00 am - 6:00 pm
Sat 7:00 am - 5:00 pm
Sun 9:00 am - 2:00 pm Jeffrey & Kristin Steele
Owner Helen Clarke
Manager
Steele's Ace Home Center began operation in 1992 as Lyng Lumber Company, a business that provided lumber and building supplies to local contractors in the Lowville, NY area. In 1997, with a new affiliation with True Value Company, Lyng Lumber Company changed its name to Adirondack True Value Home Center and relocated to the Industrial Park in Lowville. With the move, came a new facility that included a 6000 square foot hardware store, a 7000 square foot lumber building, and a new focus on the contractor, as well as, the do-it-yourself home owner. In 2002, a 6000 square foot addition was added to the existing hardware store to expand its product offerings and to house a new rental center. In 2006, Jeffrey and Kristin Steele purchased the business from Carl J. Zehr and changed its cooperative affiliation from True Value Company to Ace Hardware Corporation. Today, Steele's Ace Home Center continues its tradition of carrying the very best products along with the very best customer service.