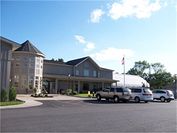 Skaneateles Town Square
61 Fennell St
Skaneateles, NY 13152
Phone: (315) 685-5748
Email:
kyoulests@gmail.com
Mon - Fri 7:30 am - 6:00 pm
Sat 8:00 am - 6:00 pm
Sun 8:30 am - 5:00 pm Kate Youle
Manager Kate, Jeff & Lynn
Owner
Skaneateles Town Square Ace Hardware is your local general store. Unique in design and character, it has 3 floors of incredible merchandise. On the lower level there is plumbing and hardware as well as a fishing and marine area. On the main level is paint, electrical, cleaning,and garden gift shop and greenhouse. On the 2nd level is seasonal including outdoor furniture and a beautiful Christmas market! Also housewares, gifts, rugs, furniture, toys and grills. It is your one stop shop! The Square also has a large garden center and contractor building. Stop by today to see all The Square has to offer! The owners Jeff, Kate and Lynn and all the staff are here to help you find exactly what you need for your home project or gift idea.