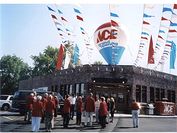 Henkle's Ace Hardware
1201 S Madison St
Webb City, MO 64870
Phone: (417) 673-2112
Fax: (417) 673-9304
Email:
henklesace@sbcglobal.net
Mon - Fri 8:00 am - 7:00 pm
Sat 8:00 am - 7:00 pm
Sun 12:00 pm - 5:00 pm John & Cris Henkle
Owner John & Cris Henkle
Manager
Chosen from over 5,000 as one of the Coolest Hardware Stores on the Planet. The Henkle's staff has over 100 years combined experience, turning rookies into handyman. Our personal service is geared to help you get in, get out and get on with your life. We strive to stock primo brands like Stihl, Yeti, Weber, Traeger, Valspar, Toro and Magnolia Homes so you can feel confident you are getting great products and outstanding service - all in one location. Owned by John and Cris Henkle, when their not helping customers and small businesses with their unique needs, they have a 5-year running live home improvement show every Saturday morning form 7am-9am on 102.9FM, 105.3FM, 1310AM Newstalk KZRG!
Amy Howard
Clark+Kensington
Craftsman
DEWALT
STIHL
Scotts
Traeger
Valspar
Weber
Werner
YETI