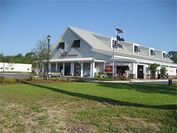 Palmetto Ace Home Center
8317 S Ocean Hwy
Pawleys Island, SC 29585
Phone: (843) 235-3555
Fax: (843) 535-4712
Email:
cbiddix@palmettoace.com
Mon - Fri 8:00am - 6:00pm
Sat 8:00am - 6:00pm
Sun 10:00am - 4:00pm
Meet Our Staff Andy Guyton
Manager
Charles Biddix
Owner
About This Store
Palmetto Ace Home Center offers a most enjoyable one-stop shopping experience! Not only can we supply your hardware needs; we also carry those fun items usually found in your favorite gift, home or bath store. At Palmetto Ace you can find everything for your home- from a custom mailbox, a garden bench, a generator, to cocktail napkins and greeting cards that make you laugh. Our friendly and pleasant staff is highly trained in electrical, plumbing, lawn and garden, paint and general contracting. Our experts are available to help you, answer difficult questions, and carry those heavy packages to your car. We opened Palmetto Ace Home Center August 8th, 2007 with great success! It has been gratifying to be welcomed by the community. We are enjoying getting to know you and hearing your words of encouragement. Thank you for your support. If you have not yet visited Palmetto Ace Home Center, please come to see us. We look forward to meeting you and earning your business.
Featured Brands