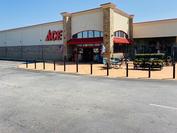 Tri-County Ace
11032 Anderson Rd
Piedmont, SC 29673
Phone: (864) 269-0745
Email:
info@tricountyace.com
Mon - Fri 8:00am - 8:00pm
Sat 8:00am - 6:00pm
Sun Closed Gary Thrift
Owner Adam Freeman
Manager
Tri-County Ace Builders Supply was formed in 1967 by Thrift Brothers, Inc. with the opening of the first store in Westminster, S.C. Over the years Tri-County Ace has grown and changed, but some things remain the same. Today, Tri-County Ace remains a family owned business, part of Thrift Group, Inc., with 6 locations to better serve our loyal customers. As a local, family owned business, Tri-County Ace has taken special interests in helping our local communities meet their needs. Welcome... stop by any of our locations in Seneca, Clemson, Liberty, West Union, Pickens and Piedmont, SC.