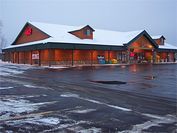 Ace Hardware of Wautoma
983 E Plaza Rd
Wautoma, WI 54982
Phone: (920) 787-4911
Fax: (920) 787-4916
Email:
luannvl14646@centurytel.net
Mon - Fri 7:00 am - 7:00 pm
Sat 7:00 am - 6:00 pm
Sun 8:00 am - 4:00 pm Luann Van Lanen
Owner Cody Laber
Manager
History of Ace Hardware of Ripon & Wautoma - In 1948, Bill Marquart and Clarence Mielke started the 2200 sq. ft. Hardware store outlet which was located at 113 Watson St.in Ripon,WI. In 1973 the business moved to the west side of Ripon at 1085 W. Fond du Lac St. and now offered the community a larger selection of merchandise. With the growing area to 14,400 square ft. on the sales floor and 21,000 sq. ft in the building overall. In 1987 Luann Marquart-Van Lanen who had helped her father since childhood decided to purchase interests in the company keeping the family business growing strong.In April 2004 Luanns husband William Van Lanen joined the Ace team as Vice President. Big changes took place over the next several years. In 2007 after much discussion and future planning, Luann and Bill Van Lanen purchased what was the previous StoneRidge Meat & Country Market Inc. The new Wautoma Ace store spans 16,200 square feet and features a 12,200-square-foot retail center.