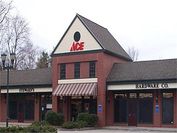 Steward's Hardware
114 E Main St
Clinton, CT 06413
Phone: (860) 669-0505
Fax: (860) 664-1638
Email:
customer_service@stewardshardware.com
Mon - Fri 7:00 am - 7:00 pm
Sat 7:00 am - 6:00 pm
Sun 8:00 am - 4:00 pm

Kim Barnes
Inventory Manager Tom Cashman
Manager

Todd N. Steward
Co-Owner
.
Owner

Cherie Thompson
Co-Owner

Tom Cashman
Store Manager
Steward's Hardware Company is a family owned and operated hardware store. Todd Steward and Cherie Sears-Thompson are the owners of Steward's Hardware Company and both grew up on the shoreline of Connecticut. Cherie grew up in Old Saybrook and graduated from Saybrook High. Todd grew up in Clinton and went to Morgan High School and Vinal Technical School. They have two children both raised in Old Saybrook and can be seen working at the store in many different capacities. Cherie and Todd have a strong belief in great customer service, wide product selection, competitive pricing, and convenience for their customers. This belief is visible as soon as you walk through their door. Cherie, Todd and the helpful staff at Steward's Ace Hardware believe that helping you is the most important thing they have to do everyday. The store is managed by 3 manager. Tom Cashman is the Customer Service Manager, Kim Barnes is the Inventory Manager.
Amy Howard
BLACK+DECKER
Big Green Egg
Carhartt
Clark+Kensington
Craftsman
DELTA
DEWALT
Dewalt Power Tools
Hunter
Jonathan Green Lawn Care
KitchenAid
Makita
Rubbermaid
SENCO
Scotts
Toro
Traeger
UGL
Valspar
Weber
Werner
YETI
Steward's Ace Hardware and it's customers are a proud sponsor of the Childrens Miracle Network, CMN. Our Local Hospital is Connecticut Children's Medical Center located at 282 Washington Street Hartford CT. Todd and Cherie would like to thank all their customers that participated in the month of Oct
Steward's Ace Hardware is a proud sponsor of the Harry Swaun Little League of Clinton CT.
Clinton Rotary Cancer Relief Fund
Local Sponsor of the Clinton Rotary Cancer Walk-a-thon.
Clinton Police Department K-9 Program
Steward's Ace Hardware donated $6,500 to purchase a K-9 for the Clinton Police Department. The K-9 will be named Ace. There have been other donations from the community including The Clinton Rotary Club for $5,000, The Clinton Lions Club to name just a few.