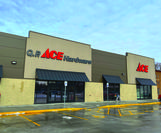 Q P Ace Hardware
901 S 27th St, Ste 1
Lincoln, NE 68510
Phone: (402) 438-5517
Email:
brent@qpacehardware.com
Mon - Fri 7:30 am - 9:00 pm
Sat 8:00 am - 9:00 pm
Sun 9:00 am - 6:00 pm

Trish Wilds
AREA MANAGER

Doug & Lisa Long
Owner

Brent Applegate
Manager
Locally owned and managed in the Lincoln community since 1967. The original QP Hardware, at 56th & South Street was started by Pete and Bernita Daharsh in 1967. A second store was started in 1981 in the Meadowlane Shopping Center which eventually replaced the 56th Street store. In 2000, The Daharsh's daughter and Son-in-Law, Lisa and Doug Long, purchased the business. A second store was opened in 2006 at 14th and Superior, a store at 27th & Capitol Parkway was acquired in 2008 and a fourth store added at 40th & Old Cheney in 2010. Q.P. Ace Hardware is committed to being "the Helpful Place" by offering our customers knowledgeable advice, helpful service and quality products. As the helpful hardware folks in your community, we promise that, "helping you is the most important thing we have to do today."