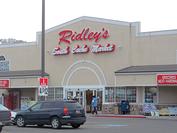 Ridley's Family Market
780 E Main St
Hyrum, UT 84319
Phone: (435) 245-4455
Email:
1150hardware@shopridleys.com
Mon - Fri 9:00 am - 8:00 pm
Sat 9:00 am - 8:00 pm
Sun 9:00 am - 8:00 pm
Rose Stock
Manager Jerry Ridley
Owner
Our full service Ace Hardware store is located right inside Ridley's, although smaller than the big box Hardware giants, our hardware store boasts many of the same convenient amenities. We have an excellent paint department with computer color matching and an extensive fastener section. We are excited to offer the convenience of a full service hardware store to our customers. Ridley's Ace Hardware is run with the same dedication to outstanding service and value that our customers have come to expect in the other areas of our store. Please come in meet us and allow us to become your first stop for all of your hardware, garden, paint, and do it yourself needs.
Amy Howard
BLACK+DECKER
Clark+Kensington
Craftsman
DEWALT
Scotts
Traeger
Valspar
YETI