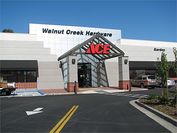 Walnut Creek Hardware
2044 Mt Diablo Blvd
Walnut Creek, CA 94596
Phone: (925) 705-7500
Email:
info@wcace.com
Mon - Fri 6:30 am - 7:00 pm
Sat 7:00 am - 7:00 pm
Sun 8:00 am - 6:00 pm Kevin Fisher
Owner Manager
Downtown Walnut Creek Ace... 2044 Mt. Diablo Blvd, Walnut Creek, CA 94596 (925)705-7500 Since 1924, Ace has been America's neighborhood hardware store; servicing homeowners and local businesses alike and developing a reputation as "The Helpful Place". For over 80 years, weve grown to more than 4,600 locations across the globe. Established in 2008, Downtown Walnut Creek Ace Hardware was founded to not only provide a neighborhood hardware store for Walnut Creek residents, but to also serve as a convenient home center for contractors and businesses alike in the local area. Our mission is to provide quality products along with helpful service at competitive prices. We hope youll consider us the next time you need building supplies and hardware.