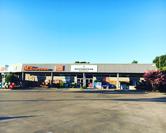 Higginbotham Brothers Ace Hardware
530 E Main St
Midlothian, TX 76065
Phone: (972) 723-5665
Email:
midlothian@higginbothams.com
Mon - Fri 7:30 am - 5:30 pm
Sat 8:00 am - 5:00 pm
Sun 10:00 am - 5:00 pm Owner Manager
The history of Higginbotham Brothers began in late 1880 when JM Higginbotham along with his family moved from Water Valley, Mississippi to the Dublin, TX to make their home. According to recorded documents, the trees were just being cleared for the town-site and the Central Texas Railroad had just made its advent in the area, when two brothers decided to open a General Mercantile in Deleon, TX. So began the first link in the Higginbotham Brothers chain. That same enduring spirit that began over 130 years ago is still alive in well in the Higginbotham Brothers Company. Today we operate 35 locations within Texas. Our hardware stores carry core Lumber and Building Materials, along with departments such as RadioShack, Bass Pro Shop, Husqvarna, and Stihl to fit our communities growing needs. The existence and continued success of our Higginbotham Brothers is due to our dedicated and hardworking staff and the communities that have supported our stores since 1881.