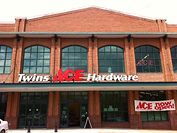 Twins Ace Hardware
10310-B Main St
Fairfax, VA 22030
Phone: (703) 359-4703
Fax: (000) 000-0000
Email:
info@twinsacehardware.com
Mon - Fri 8:00 am - 6:00 pm
Sat 8:00 am - 6:00 pm
Sun 9:00 am - 4:00 pm
Marty
Manager

Jeff and Craig Smith
Owner
Twins Ace Hardware was founded in March 2011 and serves the city of Fairfax, VA and beyond. The store is co-owned and operated by twin brothers Craig and Jeff Smith. The Smith brothers come from an extensive retail hardware background for a combined 20+ years leading up to this venture. Twins Ace Hardware emphasizes the consistent delivery of outstanding customer service. They offer a no-hassle return policy and are dedicated to customer satisfaction. In November 2016, they opened their second location in the Courthouse neighborhood in Arlington.